Ryan 'Icculus' Gordon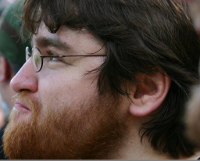 Biography
Ryan C. Gordon is a freelance game developer. Over the past decade, he has worked with almost every major game engine, and shipped over 50 titles, ranging from triple-A blockbusters to experimental indie art projects. He clients include Google, Electronic Arts, Humble Bundle, PopCap, Activision, the US Army, and Epic Games. As an outspoken advocate for open source technologies, he manages icculus.org, an incubator for open source video games and game technologies.
Presentation Details
Open Source Tools for Game Development
Increasingly, the best tools for building games for any platform don't cost a dime. This talk will offer an overview of several of the best open source technologies available to game developers today. Topics will include audio, graphics, filesystems, and scripting. While this won't be a tutorial session, it will be fairly technical in nature, and will be useful for those looking to hack out their first game, or build the next Call of Duty sequel.
Presentation Time: Saturday, 03/31/2012, at 3:30 PM - 4:30 PM
Presentation Location: Illinois A
Programming 101
Wishing you could contribute to an open source project but you have no programming experience? Let's get you started. Participants will get a crash course in programming with a LOGO-like language, and will be building art through code by the end of the hour. Concepts learned here will apply to any programming language, and will provide a good foundation for learning more. Please bring a laptop running Linux, Mac OS X, or Windows and show up a few minutes early so we can get you set up.
Presentation Time: Saturday, 03/31/2012, at 1:00 PM - 1:50 PM
Presentation Location: White Oak Room